Turning the lights off
One of the best Irish bands who existed, and one of my favourites since I started this site in 2006 have called it a day officially today. Having just released their third album, Adebisi Shank have announced the end of the band as they go out with two final Dublin shows on Thursday, September 25th and Friday night the 26th.
They blew my mind on many an occasion and they leave three stunning albums, an amazing debut EP, memories of masks, sweat and euphoria left on the floors of venues they decimated. And of course, Colin Skehan. With his top off.
---
The Guardian premiere full Adebisi Shank Third album stream a week before release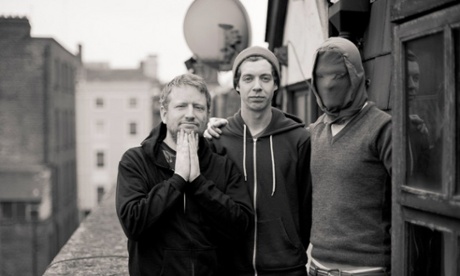 Irish math rock outfit Adebisi Shank take a 'say what you see' approach to naming records: This Is The Third Album Of A Band Called Adebisi Shank follows sophomore effort This Is The Second Album Of A Band Called Adebisi Shank and debut - you guessed it - This Is The Album Of A Band Called Adebisi Shank.
If Adebisi Shank's album naming methods are a little functional, sonically they are anything but: the band were inspired by a diverse spread of influences in creating TITTOABCAS, including ELO, Enya, Mike Oldfield, Pixar, Crash Bandicoot and Game of Thrones. The result is a retro-futurist brand of math that sounds as close to 80s soft rock and hair metal as it does to the tricksy likes of Battles and Don Caballero.
The album will be released worldwide on Sargent House on August 12th.
---
Hit Fix Premiere new track "World In Harmony"
---
The Guardian names "Big Unit' Best New Track, Other critics give their video opinion and Pre-Order goes Live
The most ridiculous thing you'll hear this week, and also the best. Notionally, Irish trio Adebisi Shank play math rock, a genre which brings to mind someone called Gerald trying to recite Pi to 3,000 digits with their guitar. Big Unit though sounds, well, silly. Basically it's Wake Up by Arcade Fire, but with that song's fey indie "woahs" replaced by an audio sample of the Confused.com robot getting waterboarded, while Top Gun guitars squeal violently away in the distance. Ludicrous. More please.
by Gwilym Mumford for The Guardian.

…… but this critic had some different advice

Adebisi Shank's new album is now available for pre-order on CD or Vinyl or bundled with a fine T-Shirt - go right HERE to order. The album will be released everywhere on August 12th, but pre-orders will ship out around August 3rd.
---
Gizmodo Premiere of new track Voodoo Vision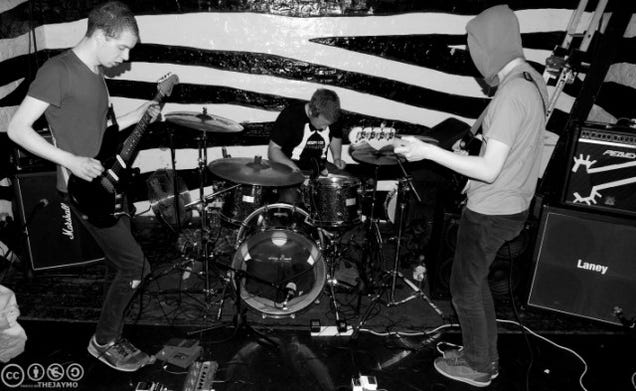 Just the other day, I shared an Adebisi Shank song with you guys not only because I loved it but because I thought it was on their new album. It wasn't, at least that version. But this version, revealed exclusively here at Gizmodo (oooOOOooo), is.

---
Gizmodo gets the fever for more Thunder
well Eric Limer, wait until you hear the album version of this live Adebisi Shank video for THUNDER, it is now called "Voodoo Vision" and is on the upcoming "This Is The Third Album of A Band Called Adebisi Shank" out on August 12th on Sargent House.


---
This Is The Third Album Of A Band Called Adebisi Shank - Stream Big Unit
Artist: Adebisi Shank
Album: This Is The Third Album of A Band Called Adebisi Shank
Label: Sargent House
Release Date: August 12th, 2014
Artwork by : Sonny Kay

Stream "Big Unit"


Tracklisting:
01. World In Harmony
02. Big Unit
03. Turnaround
04. Mazel Tov
05. Thundertruth
06. Sensation
07. Chaos Emeralds
08. Voodoo Vision
09. (trio always)
---
The (slightly) Discerning Bassist Interview with Vin of Adebisi Shank
Sargent House is a label I can always rely on for music that's truly innovative and inspiring. Wexford, Ireland's Adebisi Shank fit right in with the label's roster both in the sense that they exude sort of a free, child-like jubilance not unlike Fang Island or Tera Melos, but also in the sense that you've still never heard anything quite like them. AS are a trio that play an energetic style of futuristic punk that one could probably come up with a pretentious tag like "math-dance" for, but as Vincent would say, there's really only two kinds of music. His bass can often shape-shift from ballsy pick-attacked Fender Jazz to sugary synth sounds and plenty in between, but it always grabs your attention. Below Vin provides one of the best interviews I've had the pleasure of having.
How did you guys form?
---
Adebisi Shank joins in the picture game
---
Live new song recorded in Los Angeles for the Sargent House Studio Sessions
Adebisi Shank perform a new song live from Entourage Studios in Los Angeles. It was recorded to multitrack and mixed by Toshi Kasai (Melvins, Indian Handcrafts) while the band was over for their summer tour in the US with Fang Island. This is part 1 of a 3 part session.
---
Gizmodo Gets Genki Shanked & Last 3 US Shows!

If you need a song to get you revved up and ready to go, look no further; Adebisi Shank has you covered. This Irish trio puts out some seriously upbeat math-rocky craziness, and Genki Shank (free dl) from their album This Is The Second Album Of A Band Called Adebisi Shank is a great introduction.
A bit more intuitive than some of their other, mathier tunes, Genki Shank has a great galloping beat and a perfect example of less-is-more bass playing. It's like the aural equivalent of a stiff cup of coffee. I know I'll listen to it right after I reluctantly drag myself out of bed tomorrow morning, you might want to give that a try too.


Don't Miss Adebisi Shank's last few USA shows with Fang Island
08/28 Raleigh, NC @ Kings
08/29 Richmond, VA @ Strange Matter
08/30 Brooklyn, NY @ Music Hall of Williamsburg 



---
Genki Shank Los Angeles Style at The Troubadour
---
Adebisi Shank American Tour with Fang Island Starts Friday August 10th

Adebisi Shank will be coming back to the US this Summer to support their Sargent House brothers Fang Island on part of their tour in celebration of Fang Island's new album MAJOR release. Joining them on a few of the shows as well will be Zechs Marquise. Now that's a whole lot of Sargent House Family Riffage.

FANG ISLAND & ADEBISI SHANK //MAJOR TOUR 2012
08/10 Los Angeles, CA @ Troubadour * 
08/11 San Diego, CA @ Soda Bar (EARLY SHOW)
08/12 Phoenix, AZ @ The Rhythm Room *
08/13 Tucson, AZ @ Club Congress *
08/14 Albuquerque, NM @ Launchpad *
08/15 El Paso, TX @ Low Brow Palace *
08/16 Dallas, TX @ Club Dada
08/17 Austin, TX @ Mohawk
08/19 Houston, TX @ Warehouse Live - Studio
08/20 New Orleans, LA @ Parish at House of Blues
08/21 Birmingham, AL @ Bottle Tree
08/22 Gainesville, FL @ Double Down Live
08/23 St. Petersburg, FL @ The Local 662 
08/24 Jacksonville, FL @ Jack Rabbits
08/25 Atlanta, GA @ The Masquerade
08/26 Asheville, NC @ Asheville Music Hall
08/28 Raleigh, NC @ Kings
08/29 Richmond, VA @ Strange Matter
08/30 Brooklyn, NY @ Music Hall of Williamsburg

* ALSO w/ Zechs Marquise

SEE ALL ADEBISI SHANK SHOW DETAILS & UPDATES
SEE ALL FANG ISLAND SHOW DETAILS & UPDATES
(Source: artistdata.adebisi-shank)
---
BBC Music Live Show Review: Belfast

Adebisi Shank, Toby Kaar at Bunatee Bar, Belfast - Thursday July 26th
Given that tonight's gig in the Bunatee Bar is first and foremost an opportunity for Dublin rockers Adebisi Shank to test out new material as part of their "New Tunez" tour, it would be natural to assume that they might be a tad rusty on the live circuit these days - particularly as their most recent round of serious touring came towards the end of last year. This crowd aren't buying into that notion for a second though, as a quick look around the Bunatee reveals a loyal fan base that are expecting to be entertained. And entertained they are, first of all by Cork native Toby Kaar. Setting up behind a laptop and a few samplers, the audience might be expecting a relatively tame head-bobbing DJ set- but what makes Kaar's performance stand out tonight is that it's just that - a performance.
With various bits of his musical setup glowing and pulsing steadily, Kaar moves head, feet, and just about everything else to trick the audience into thinking that they're not just watching a DJ set.
Fortunately there is nothing modest about the crowd that have amassed by the time Adebisi Shank are ready to perform. The Bunatee has made the quick transformation from an intimate venue to a packed-out sweatbox - all too appropriate given the frantic nature of their set.
Tonight may be all about giving new tracks an outing, but such is the crowd's enthusiasm that whether the band play old classics such as 'You Me' or numbers that the crowd aren't quite familiar with yet, the reaction is the same; beaming smiles and moving feet. Indeed, 'Fun' is the keyword tonight, as the trio power through a set that barely stops to take pause- and does so only when the band's laptop gets temperamental.
Even at that, guitarist Lar and bassist Vinny's experimental noodling whilst normal service is resumed is a joy to watch. It's probably the only time tonight that the audience actually stops to try and comprehend how the band make the sounds that they do, such is the speed and skill with which they play. It's a much bigger sound than a line-up of three would suggest. 'International Dreambeat' is spectacular tonight - the band's second album generally comes across very well. Their new material also seems to suggest a leaning towards Sargent House label-mates Fang Island, which can be no bad thing.
All in all it's an impressive feat that they have taken a genre which can become a bit samey at times, and through their live performance inject a well received dose of variety and excitement into proceedings. Whether that can continue remains to be seen - but they've certainly done it tonight. - Andrew Lemon

DON'T MISS ADEBISI SHANK ON THEIR US TOUR WITH FANG ISLAND

---
IRELAND : Adebisi Shank Playing Some New Tunez Tour 2012 
Adebisi Shank have three shows coming in Ireland, with some New Tunez for you all.

ADEBISI SHANK LIVE
26th July 2012 - Belfast - Bunatee Bar
27th July 2012 - Dublin - Button Factory
28th July 2012 - Castlebar - Live N Loud @ The Clubhouse
---
---